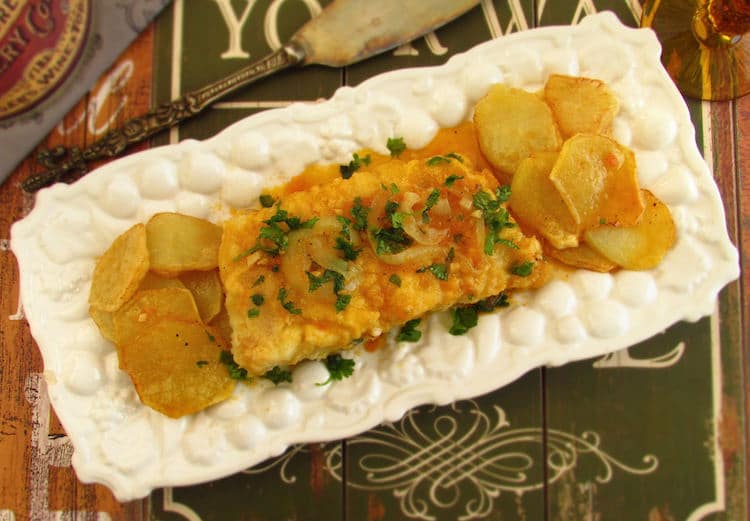 Cod coated in egg and flour, fried in vegetable oil, served with fried potatoes, drizzled with a sauce confectioned ​​with tomato, onion, garlic and white wine, seasoned with pepper, sprinkled with chopped coriander.
Servings:: 4
Prep Time: 10 m
Cook Time: 35 m
Total Time: 45 m
PRINT RECIPE
Ingredients
4 desalted cod steaks (about 1 kg (2 1/4 pounds))
1 kg (2 1/4 pounds) potatoes
Pepper (to taste)
2 medium onions
2 cloves of garlic
50 ml (1/4 cup) olive oil
100 ml (1/2 cup) white wine
3 medium ripe tomatoes
Coriander (to taste)
Salt (to taste)
Flour
1 egg
Vegetable oil for frying
Directions
Peel and wash the potatoes. Cut them into round slices and fry in hot oil. When they are fried reserve them in a platter over absorbent paper.
Meanwhile, in a saucepan place the olive oil, chopped garlic, the onion cut into round slices and the peeled tomatoes cut into small pieces. Leave to sauté on a low heat until the tomato start to break down. Add the white wine, stir and simmer about two to three minutes. Turn off the heat, season with a little pepper and sprinkle with chopped coriander. Set aside.
Coat the cod steaks in beaten egg and then in flour.
Heat a frying pan with oil. When is hot, add the cod steaks and fry them on both sides until they turn slightly golden brown. When they are fried, place them on a platter over absorbent paper.
Serve the cod and the fries drizzled with the sauce.
Fried cod with tomato sauce
Nutrition facts
Serves 4
Per Serving:
% DAILY VALUE
Calories 614
Total Fat 15.5 g(24%)
Saturated Fat 2.5 g(13%)
Cholesterol 178 mg(59%)
Sodium 272 mg(11%)
Total Carbohydrate 49.5 g(16%)
Protein 64 g