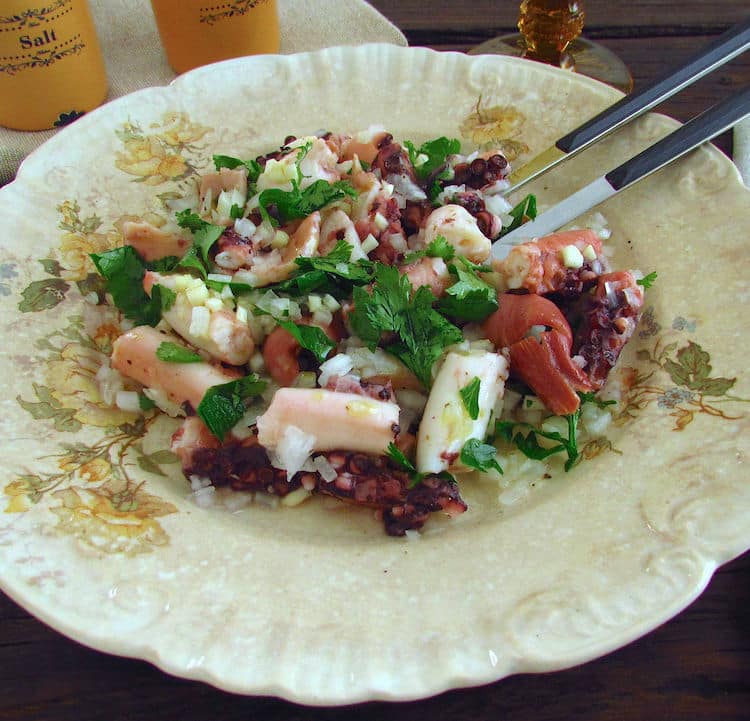 A pleasant and simple recipe to prepare, cooked octopus cut into pieces, seasoned with onion, garlic, parsley, coriander salt and pepper, drizzled with olive oil and vinegar.
Servings:: 4
Prep Time: 10 m
Cook Time: 20 m
Total Time: 30 m
PRINT RECIPE
Ingredients
1 kg (2 1/4 pounds) octopus
2 medium onions
Pepper (to taste)
3 cloves of garlic
Parsley (to taste)
Coriander (to taste)
100 ml (1/2 cup) olive oil
1 tablespoon vinegar
Salt (to taste)
Directions
Prepare the octopus. Wash it well and place in a pressure cooker with water, a peeled onion and a sprig of parsley. Leave to cook about 20 minutes. Drain the octopus, remove to a plate and cut into pieces.
Season the octopus with a little salt, pepper, chopped parsley, chopped coriander, the remaining chopped onion and chopped garlic. Drizzle with olive oil and vinegar and mix everything with the help of two forks.
Serve immediately.
Octopus salad
Nutrition facts
Serves 4
Per Serving:
% DAILY VALUE
Calories 437
Total Fat 26 g(40%)
Saturated Fat 3.5 g(17%)
Cholesterol 0 mg(0%)
Sodium 42 mg(2%)
Total Carbohydrate 6 g(2%)
Protein 43.5 g