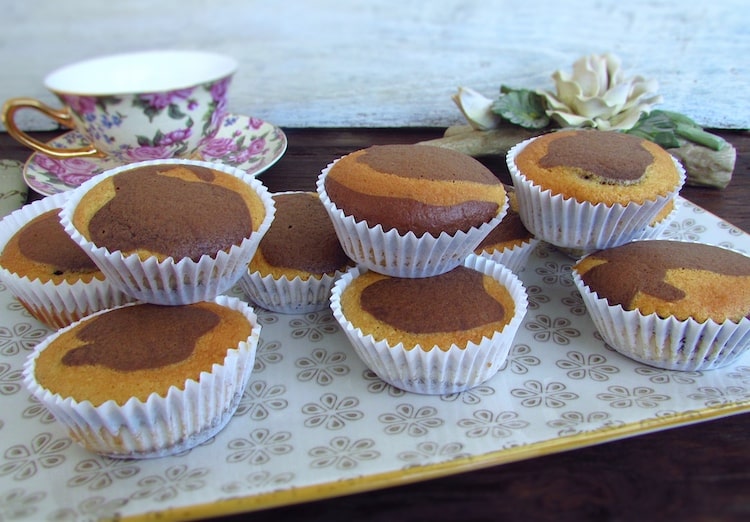 In a party or in a snack with friends, these chocolate mango marble muffins are an excellent choice. They have a divine presentation and are a delight. Try it!
Servings:: 16 units
Prep Time: 25 m
Cook Time: 20 m
Total Time: 45 m
PRINT RECIPE
Ingredients
1 tablespoon chocolate powder
200 grams (7 ounces) mango
150 grams (1 cup) all-purpose flour
125 grams (1/2 cup) granulated sugar
4 eggs
1 tablespoon liquid caramel
1 teaspoon baking powder
Directions
Preheat the oven to 180ºC (350ºF). Line muffin tins with paper liners.
Wash, peel the mango and cut into pieces. Place it in a blender and blend on high until a creamy mixture; set aside.
In an electric mixer, beat on medium speed the eggs and the sugar until a homogeneous mixture. Reduce the mixer speed to low, add the flour mixed with the baking powder and beat until obtain a homogeneous and creamy mixture.
Divide the dough in two parts. In one of the parts beat the chocolate powder for 2 to 3 minutes to incorporate. In the other, add the liquid caramel, the mango and mix for 3 to 4 minutes until it's nicely incorporated. With a spoon pour small portions of the dough alternately into the prepared muffin tins, one with chocolate and the other with mango and so on until finish the dough.
Bake until a toothpick inserted in the center of a muffin comes out clean, about 20 minutes (the time depends on the oven).
Turn off the oven, let the muffins cool to room temperature and serve.
Chocolate mango marble muffins
Nutrition facts
Serves 16 units
Per Serving:
% DAILY VALUE
Calories 92
Total Fat 1.5 g(2%)
Saturated Fat 0.5 g(3%)
Cholesterol 41 mg(14%)
Sodium 17 mg(1%)
Total Carbohydrate 17.5 g(6%)
Protein 2.5 g