Cod is the king of Portuguese food, combines in a delicious and special way with olive oil. Serve this cod recipe in the oven drizzled with olive oil in a family dinner, they gonna love it…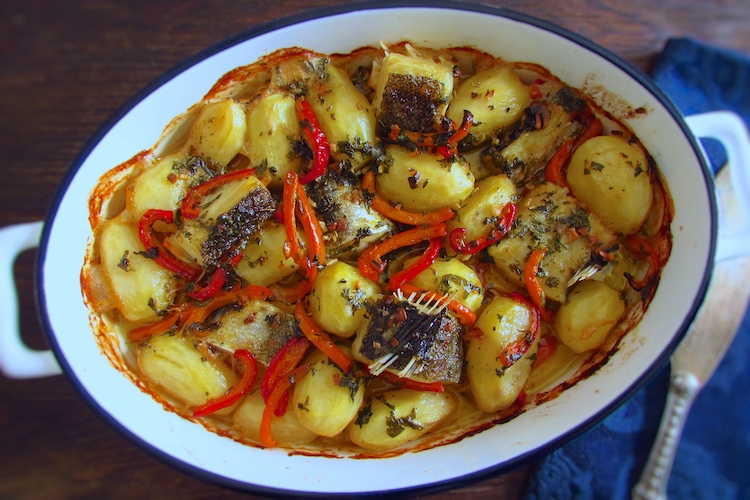 INGREDIENTS FOR COD IN THE OVEN DRIZZLED WITH OLIVE OIL
Here you'll find all the ingredients needed to make this recipe:
● Cod
● Small potatoes
● Pepper
● Lemon juice
● Oregano
● Olive oil
● Red pepper
● Orange pepper
● Paprika
● Coriander
● Salt
Below you'll find the correct measurement of all ingredients and the step-by-step guide for this recipe.
HOW TO MAKE COD IN THE OVEN DRIZZLED WITH OLIVE OIL
In a bowl, combine the olive oil, the peppers cut into strips, a little salt, chopped coriander, oregano, pepper, lemon juice and the paprika.
On a baking dish place the cod cut into pieces and the peeled potatoes. Drizzle with the olive oil mixture and marinate for about 1 hour.
Bake until golden brown, about 50 minutes. Occasionally drizzle the cod and the potatoes with the sauce.
Turn off the oven and serve.
Cod in the oven drizzled with olive oil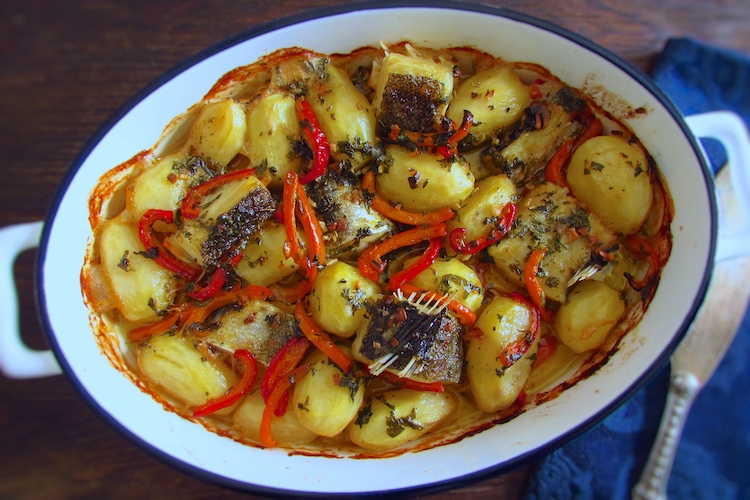 Cod is the king of Portuguese food, combines in a delicious and special way with olive oil. Serve this cod recipe in the oven drizzled with olive oil in a family dinner, they gonna love it…
Servings:: 4

Prep Time: 10 m

Cook Time: 50 m

Total Time: 1:55 h

Ingredients

3 desalted cod steaks (about 750 grams (1 2/3 pounds))
1.2 kg (2 2/3 pounds) small potatoes
Pepper (to taste)
Juice of half lemon
Oregano (to taste)
150 ml (2/3 cup) olive oil
1/2 red pepper
1/2 orange pepper
1 teaspoon paprika
Coriander (to taste)
Salt (to taste)

Directions

In a bowl, combine the olive oil, the peppers cut into strips, a little salt, chopped coriander, oregano, pepper, lemon juice and the paprika.
On a baking dish place the cod cut into pieces and the peeled potatoes. Drizzle with the olive oil mixture and marinate for about 1 hour.
Preheat the oven to 180ºC (350ºF).
Bake until golden brown, about 50 minutes. Occasionally drizzle the cod and the potatoes with the sauce.
Turn off the oven and serve.

Cod in the oven drizzled with olive oil

Nutrition facts

Serves 4

Per Serving:

% DAILY VALUE

Calories 719

Total Fat 37.5 g(58%)

Saturated Fat 5.5 g(27%)

Cholesterol 103 mg(34%)

Sodium 204 mg(8%)

Total Carbohydrate 49.5 g(17%)

Protein 48 g