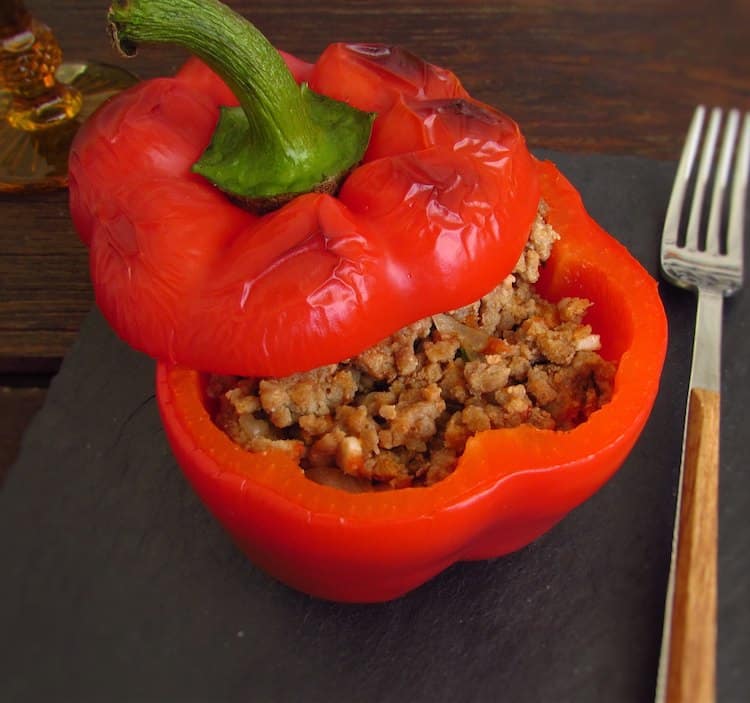 For a party, give a special touch in the presentation of your dishes! Prepare this recipe with excellent presentation and very tasty of stuffed peppers with minced meat in the oven.
Servings:: 4
Prep Time: 15 m
Cook Time: 55 m
Total Time: 1:10 h
PRINT RECIPE
Ingredients
4 red peppers
300 grams (10 1/2 ounces) minced beef
300 grams (10 1/2 ounces) minced pork
3 medium ripe tomatoes
1 large onion
Nutmeg (to taste)
Pepper (to taste)
4 cloves of garlic
50 ml (1/4 cup) olive oil
Parsley (to taste)
Salt (to taste)
Directions
Season the minced meat with salt, pepper, nutmeg and chopped garlic. Mix everything well and marinate about 30 minutes.
Slice the top of the peppers and remove the interior (reserve the peppers lid). Wash the peppers and set aside.
Place the olive oil, the chopped onion and the peeled tomatoes cut into small pieces in a saucepan and cook over low heat until the tomato start to break down. Then, add the meat, stir and cook over low heat about 20 minutes, stirring occasionally.
Turn off the heat and sprinkle with chopped parsley. Stuff the peppers with the meat and cover them with the lid.
Preheat the oven to 180ºC (350ºF).
Place the peppers on a baking pan and bake until slightly golden, about 20 to 25 minutes. Turn off the oven and serve the peppers with lettuce salad.
Stuffed peppers with minced meat in the oven
Nutrition facts
Serves 4
Per Serving:
% DAILY VALUE
Calories 402
Total Fat 19.5 g(30%)
Saturated Fat 4.5 g(22%)
Cholesterol 122 mg(41%)
Sodium 141 mg(6%)
Total Carbohydrate 12 g(4%)
Protein 44.5 g