This delicious stewed chicken breast recipe has the special touch of the carrot and is seasoned with delicious spices. Besides being a simple and quick recipe has excellent presentation!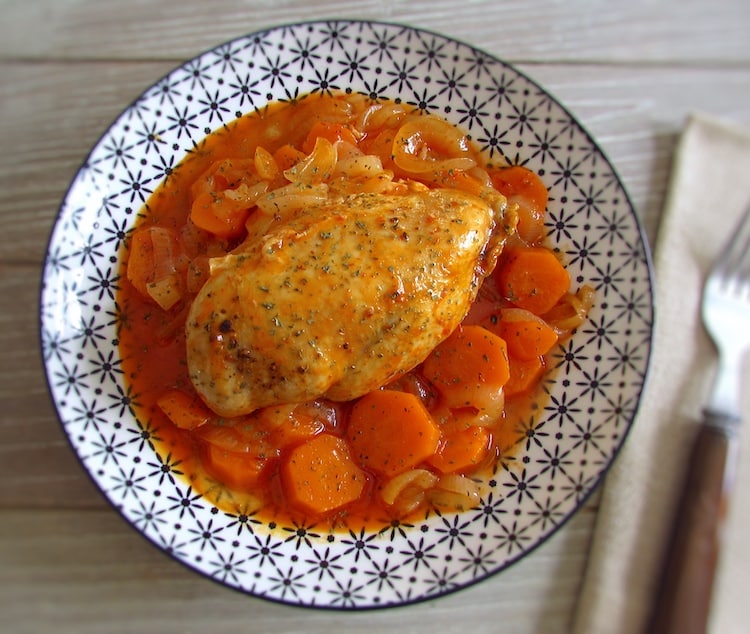 Servings:: 2
Prep Time: 5 m
Cook Time: 30 m
Total Time: 35 m
PRINT RECIPE
Ingredients
2 chicken breasts (about 600 grams (1 1/3 pounds))
2 medium carrots
1 large onion
4 cloves of garlic
1 tablespoon Worcestershire sauce
50 ml (1/4 cup) olive oil
1 tablespoon red pepper sauce
Nutmeg (to taste)
100 ml (1/2 cup) white wine
Dried coriander leaves (to taste)
Salt (to taste)
Directions
Place the olive oil, the whole garlic, onion and the carrots cut into slices in a saucepan and saute until the onion start to turn slightly golden brown, stirring occasionally. Add the chicken breasts and season with a little salt, nutmeg, Worcestershire sauce, red pepper sauce and white wine. Cover the pan with a lid and cook for 25 to 30 minutes, stirring occasionally.
Turn off the heat, sprinkle with dried coriander leaves and serve with spaghetti or white rice.
Stewed chicken breast with carrot
Nutrition facts
Serves 2
Per Serving:
% DAILY VALUE
Calories 893
Total Fat 46.5 g(60%)
Saturated Fat 9.5 g(48%)
Cholesterol 267 mg(89%)
Sodium 529 mg(23%)
Total Carbohydrate 18.5 g(7%)
Protein 89 g